Hello;
After many days without running VirtualBox, i decided to do that today. but i got surprised that it wont run at all.
i tried all other websites to and VirtualBox Forums, but seems like no suggestion solution there works for me.
I get this error when i run my VM:
"Failed to create the VirtualBoxClient COM object.

The application will now terminate.

Callee RC: REGDB_E_CLASSNOTREG (0x80040154)"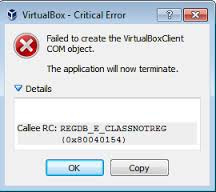 i tried every trick in the book to get it fixed but nothing worked.
Can you please suggest what to do?
thanks